When you first built your website, it probably looked great. You were happy with the colours and the images, and it contained just the right information. But now it's starting to feel outdated and doesn't align with your business.
A website is integral to your marketing strategy, particularly if you're trying to reach your ideal prospect. It's usually the first impression a prospect turns to when they want to learn more about you before connecting with you on LinkedIn or signing up for your email newsletter. If your site has been the same for years and you're wondering why it's time for a change, it's because there are some excellent reasons to do so.
Here are just a few:
Your design doesn't reflect your business anymore

Your website isn't user friendly

Your content isn't fresh and up to date

It doesn't have a clear call-to-action

Your website doesn't have the latest tools
How Often Should You Redesign Your Website?
The digital world is unforgiving, and your website will get left behind if you don't keep up with the trends. And this doesn't just mean being on top of the latest colour schemes and design trends—it also means keeping up with your site's functionality.
What was aesthetically pleasing three years ago likely isn't today. Websites with many pages used to be the trend, but now websites are more straightforward, and prospects enjoy more video content.
In terms of functionality, there's way more available to help advisors enhance their websites than three years ago.
There's no one-size-fits-all approach to web design—but as a rule of thumb, you should redesign your website once every two to three years.
Here are reasons why you should redesign your website:
Your design doesn't reflect your business anymore
Your business has changed, you've identified your ideal client, and your website doesn't reflect this anymore. Your website should convert prospects; if it's not, then it's time to review your content and your website design.
For example, if your ideal clients are retirees; then your website design should have:
Content that resonates with retirees: ex. Do I have enough to retire? When should I start taking CPP?

Images that inspire retirees, what does success look like: ex. living an active lifestyle, time with family

Your website should have a traditional layout to ensure navigation is straightforward.

The font should be a minimum of size 14 and a serif font.

There should be large buttons that have a clear call to action.

Increased contrast between colours: ex. Dark text on a light background.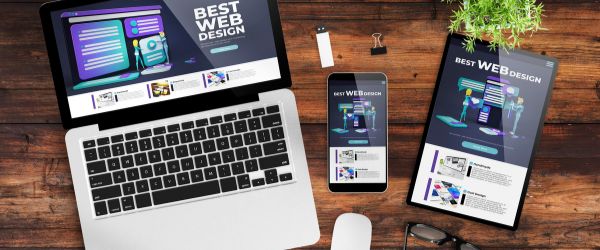 Your website isn't mobile-friendly
If you've been online for a long time, you know that the mobile revolution has been happening for quite some time now. As a result, more people are using smartphones than ever; mobile traffic has surpassed desktop traffic by more than 20%.
And yet many websites still aren't optimized for mobile. If your website isn't optimized for mobile usage yet, it could cost you potential clients.
The term "responsive" comes from the idea that a website should respond to the size of the screen it's being viewed on. This means that a responsive design will look and work equally well whether you're using your phone, tablet, laptop or desktop computer—no matter your device. Why is this important? Because more people are using phones to go online than ever before.
So if your website isn't optimized for mobile usage yet, it could be costing you potential sales and customers!
Your content isn't fresh and up to date
The first thing you should realize about your website is this: it's not just there to look pretty.
Content is essential in online marketing, and that's especially true when it comes to your website. Your prospects are coming there to learn more about your business and its services—and if they can't get that information from you, they'll find it elsewhere.
If you haven't updated your content in a while (or ever), it can create a tiny seed of doubt that if your website isn't updated, will they keep my finances updated?
Advisors have limited time, and it's challenging to keep up with every change; however, if you're not updating your website consistently, you may lose prospects to your competitors.
Your website doesn't have a clear call to action
Nobody likes waiting. Waiting is a waste of time, whether in line, on the phone, or even getting an email reply. Instead, make it simple for prospects to book meetings directly with you through your website.
This is where online booking works. Your prospect can see when you're available and simply choose a time and date that works for them- there are no back-and-forth emails, just a fast way to book a meeting.
Your website doesn't have the latest tools
If your website isn't functional, it's like a car without wheels. You might as well not have one.
What does it mean for a website to be functional? The site should be easy to use and navigate, with no delays in the loading process. For advisors, several tools can be integrated into your website, including:
Client onboarding

Insurance quotes

Retirement and Investment Calculators

Uploading secure documents

Videos about your services
What do I do next?
The best way to decide if your website needs a refresh is to ask yourself these questions:
Does my website showcase "Who I am, Who I serve and What I do"?

Does the content and design of my site resonate with my ideal client?

Does my website have a clear call to action?

Does it have the latest tools?

If your website isn't mobile-friendly- it's definitely time to revamp the website.
If you have any questions about how well your current website design operates, feel free to reach out. We'd be happy to discuss how changes could help you improve your marketing strategy to grow your business.